Enhance Your Outdoor Space with the Beauty of Corten Steel Edging
Enhance the beauty of your outdoor space with Corten Steel edging. With its durability, versatility, and low maintenance, Corten garden edging is the perfect solution for those looking to design a landscape that stands out. Whether you're a homeowner, a landscaping enthusiast, or even a professional in the landscaping industry, our planter edging selection provides a variety of benefits that make it a choice you won't regret. So why wait? Shop now to make your vision a reality.
Why Choose Corten Steel Edging for Your Home or Business?
Corten Steel is a copper, chromium, and nickel alloy that resists humidity and moisture's corrosive effects. It begins as a steel-gray color and develops into a rusty patina. This metal for edging has many benefits thanks to its inherent properties. Other landscape edging made of inferior materials can't boast these same advantages, such as durability, versatility, and low maintenance.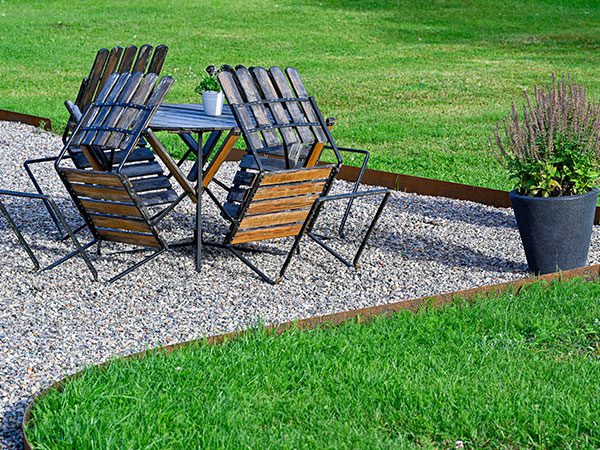 DURABILITY
You want your landscape to last, and Corten Steel edging provides just that. Its weathering properties allow it to resist corrosion, making it long-lasting and perfect for any climate. Plus, it has superior strength to withstand whatever mother nature throws at it.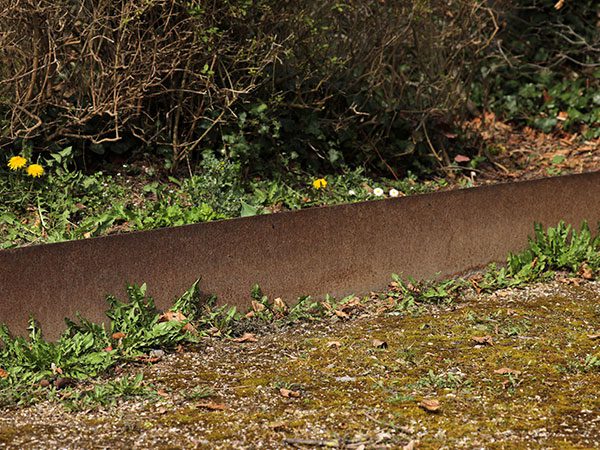 VERSATILITY
Corten planter edge edging can be used in various ways to define garden beds, border pathways, or flower beds. It's perfect for highlighting water features, designing retaining walls, and adding vertical levels to your outdoor space.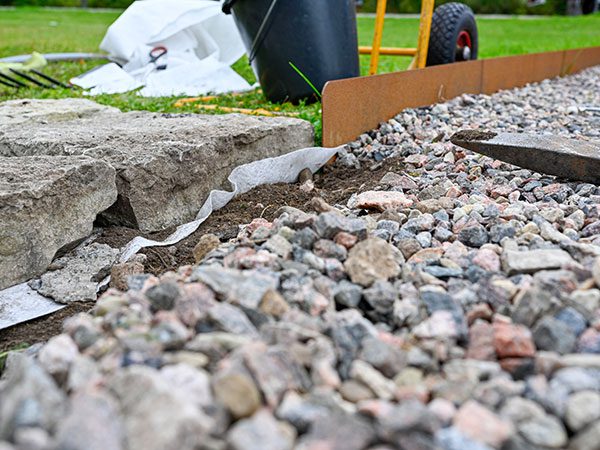 LOW MAINTENANCE
With resistance to oxidation and weathering, and its natural ability to repel unwanted organisms, Corten metal edging doesn't require any extra maintenance. So, you can sit back and relax in your beautiful outdoor space designed with the best metal products.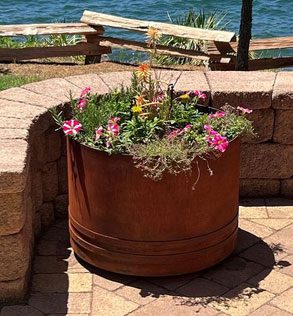 Looking for Planters Instead?
Corten Steel is a popular metal to choose from for various projects in your indoor and outdoor spaces. Are you looking for Corten Steel planters to accent your Corten Steel lawn edging? If so, we have you covered! Check out our wide range of sizes and shapes available in our Corten Steel Planters!
Shop for Corten Steel Planters
Ways to Use Corten Steel Lawn Edging
You can create a unified look throughout your space using Corten Steel edging for various landscape features. With its unique rusted appearance, this material adds personality and character to your landscape that is unmatched by any other edging materials. Its durability, low maintenance, and versatility create a stunning visual impact on your outdoor living space.
Here are five unique ways to use Corten landscape edging in your home or business outdoor spaces.
---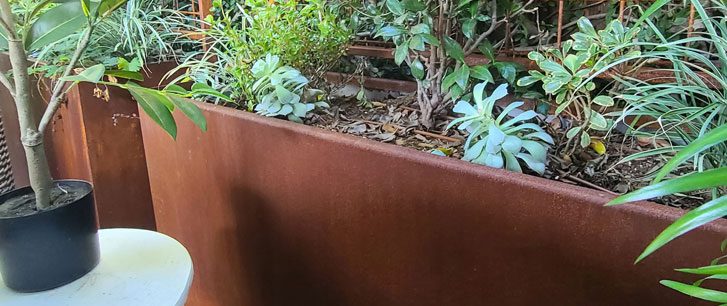 1. CREATE DEFINED GARDEN BEDS
Corten lawn edging provides a visually appealing way to define and accentuate landscape features. Garden beds can be outlined with this rusted steel garden edging to create a clear distinction from the surrounding lawn or other elements in your yard.
---
2. BORDER PATHWAYS
Paths and walkways benefit significantly from the use of corten steel garden edging. The material helps to clearly define the path, keeping it separate from the environmental elements around it. This edging creates a clean and beautiful look and prevents overgrown grass or plants from invading the path.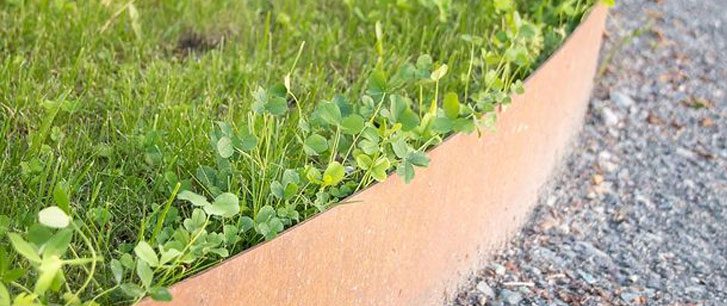 ---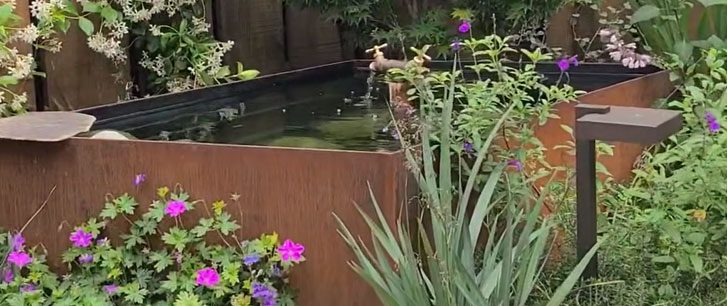 3. HIGHLIGHT WATER FEATURES
If your landscape has any water feature, such as a pond or water fountain, rusted metal edging can accentuate it and visually take it to the next level. The contrast between the edging and the water creates a dramatic effect that can breathe new life into your outdoor space.
---
4. DESIGN RETAINING WALLS
Corten Steel landscaping edges can be used to create stylish and practical retaining walls. The material can handle the stress of soil movement and water saturation without degrading, making it the perfect choice for retaining walls. Retaining walls can be used to terrace hillside landscapes, provide flat areas for recreational activities, and prevent soil erosion.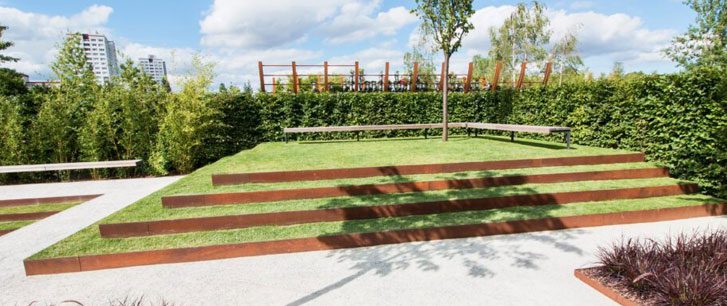 ---
5. ADDING VERTICAL PLANES
With the various sizes of our Corten Steel edging, you can use it to create interesting vertical planes. Instead of placing it horizontally in the soil, stand it on its end to create interesting and unique patterns. This can involve creating taller edging that is all the same height or some of the various heights that add functionality with a visually pleasing design.
---
Ready to Incorporate Corten Steel Edging in Your Outdoor Space?
Corten Steel edging is ideal for creating a beautiful, low-maintenance outdoor space. Its versatility, durability, and natural beauty set it apart from other landscape materials. Make a statement in your yard today and upgrade your current landscape to a unique and spectacular design. So, what are you waiting for? Shop now!
Shop Now
PlanterCraft on Instagram